Last Updated: March 10, 2021
Work Visa - Sweden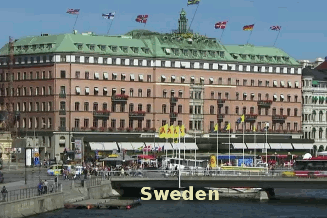 Sweden is a great place for people looking for work abroad, with its excellent welfare system, strong worker rights and focus on innovation. It is a fantastic place that attracts people from across the globe be it for their education, work, tourism, or living, it has a charm of its own that cannot be missed out on. To be eligible to work in Sweden, an individual must apply for and receive approval for a Work Visa.
About Sweden
Sweden is all about good people and good living. Studies present this country as having people with the longest life expectancy. The nation treats its people equally, and hence there are major opportunities for life and growth for all. Both men and women have a good number of opportunities available for them. The culture reflects a diverse one, where people are not only busy with office lives, but also indulge themselves in music, art, literature, and other preferences.
The country is highly reputed for its car manufacturing abilities.
Job Prospects in Sweden
The job market in Sweden is all about innovation, marketing and more. The rights of the workers in this country are strong. The job prospects are also aligned with the high standards of living that prevail in here. Not only are graduates and post-graduates warmly welcome in Sweden to grab jobs in multinationals, but also the nation offers major opportunities for the entrepreneurs. Further, the prospects are supported by the availability of basic amenities, transportation, and other essentials for living in the country.
Be it in engineering, medicine, management, or business, jobs are in no dearth in Sweden, for those who want to have an opportunity to work and earn in here.
Work Visa to Sweden
As far as rules to have a Work Visa for Sweden is concerned, they vary depending on which country the applicant for the visa is from. Citizens of the following countries, aged 18-30 can also apply for a working holiday visa which will be valid for up to one year: Argentina, Australia, Chile, Canada, Hong Kong, New Zealand, South Korea and Uruguay. The best part, however, is that if an individual is staying in the country for six months or more for work, they can also bring their families to the country.
Process of Getting the Work Visa
One must follow the following steps in order to get a work visa for Sweden:
For all the non-EU individuals, the first step is to have a work permit. The prospective applicant needs to make and submit an application to work in Sweden. The following are the prerequisite criteria that need to be met to have the work permit:

The applicant must have received an official job offer from a recognised Swedish employer.
The job offered must have been promoted in EU/EEA for a minimum of 10 days
The applicant must have work related offers that match with the Swedish collective agreements as well as with rules and policies related to the work industries
The minimum salary (per month) of the offered job must be at least SEK 13,000 before taxes.



The applicant then must compile and submit their application. This may be done online or a hard copy must be submitted to a Swedish Embassy or consulate which is closest to them. The following documents must be presented as part of the application:

A fully filled in application form.
Photocopies of relevant data in Passport, including personal details, period of validity and whether the applicant has permission to live in countries other than their country of origin.
The applicant's offer of employment and a supporting statement from the relevant trade union.
The application fee.

On submission of the application form, the Migration Agency considers the application and will inform the applicant of its decision, which may take up to 8-12 months in total. This estimate of waiting times is based on a variety of factors like the method of application (online or offline), employment sector of the applicant's profession and requirement of additional documents, and is therefore subject to change specific to the applicant's situation.
Things to Know When Putting Forward an Application for a Work Visa
An individual making and submitting an application, along with necessary documentation, is supposed to make sure that they have received an offer of employment. A relevant trade union has to approve the said offer. Next, they need to get their application ready and place it to the Swedish embassy.
The application form must be completed. Also, photocopies of the applicant's Passport, their job details, and other documents related to qualifications and experiences need to be provided. The application will be considered by the Migration Agency. Once their Visa is approved, they will receive a notification from the agency. It is recommended that the applicant keep checking the waiting list for the results. Once the approval arrives, the applicant will need to need to submit the required information for their Visa and permit card for residence.
Information for Visa and Work Permit:
After the applicant is granted a residence permit and allowed to work in Sweden for a period greater than 3 months. The permit is an actual card containing a computer chip that stores the card holder's details such as their photograph and fingerprints. Having the permit on oneself when visiting government agencies or availing healthcare facilities is mandatory.
Extension of Work Visa:
A Work Visa permit can also be extended if required. However, for this, one will need to make a separate application applying for an extension. The applicant must make sure to save all payment receipts, certificates of employment, certificates of absence, and certificates showing that they have been covered by insurance throughout the permit period, as they may be asked to present these documents to the Swedish Migration Agency, as part of the extension process. Sweden is one of the best places that you can move to - it's time to start applying!
Permits for Family Members
A non-EU recipient of a Sweden work permit is allowed to be joined by his/her spouse/common law spouse/registered partner and children up to the age of 21. Children above 21 years of age can also be allowed to join the recipient if they are financially dependent on them. However, these dependents will not be presented with work visas and will instead have to apply for residence permits. These may be part of the main recipient's application or even done separately.