Work Visa - Sweden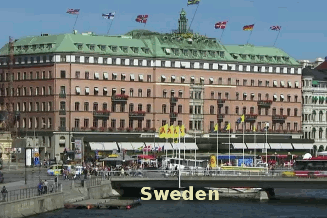 You would see a lot of German culture if you head off to the 3rd largest country in the European Union - Sweden. A fantastic place that attracts people from across the globe be it for their education, work, tourism, or living, Sweden has a charm of its own that you cannot miss out on. If you have plans to work in Sweden and live there, you will need your Work Visa for the purpose.
About Sweden
Sweden is all about good people and good living. Studies present this country as having people with the longest life expectancy. The nation treats its people equally, and hence there are major opportunities for life and growth for all. Both men and women have a good number of opportunities available for them. The culture reflects a diverse one, where people are not only busy with office lives, but also indulge themselves in music, art, literature, and other preferences.
The country is highly reputed for its car manufacturing abilities.
Job Prospects in Sweden
The job market in Sweden is all about innovation, marketing and more. The rights of the workers in this country are strong. The job prospects are also aligned with the high standards of living that prevail in here. Not only are graduates and post-graduates warmly welcome in Sweden to grab jobs in multinationals, but also the nation offers major opportunities for the entrepreneurs. Further, the prospects are supported by the availability of basic amenities, transportation, and other essentials for living in the country.
Be it in engineering, medicine, management, or business, jobs are in no dearth in Sweden, for those who want to have an opportunity to work and earn in here.
Work Visa to Sweden
As far as rules to have a Work Visa for Sweden is concerned, they vary from country to country. The best part, however, is that if you are staying in the country for six months or more for work, you can also bring your family in here.
Process of Getting the Work Visa
For all the non-EU individuals, the first step is to have a work permit. You need to make an application for working in Sweden. The following are the criteria that need to be met to have the work permit:
Been promoted in EU/EEA for a minimum of 10 days
You have work related offers that match with the Swedish collective agreements as well as with rules and policies related to the work industries
You must have a minimum salary (from the job) of SEK 13,000 before taxes
Things to Know When Putting Forward Your Application
Once you make your application, along with necessary documentation, you are supposed to receive an offer of employment. A relevant trade union has to approve the offer. Next, you need to get your application ready and place it to the Swedish embassy.
The application form must be completed. Also, photocopies of your Passport, your job details, and other documents related to qualifications and experiences need to be provided. Your application will be considered by the Migration Agency. Once your Visa is approved, you will receive a notification from them. You can also keep checking the waiting list for the results. Once your approval arrives, you need to need to submit the required information for your Visa and your permit card for residence.
Your Work Visa permit can also be extended if required. However, for this, you will need to make a separate application applying for an extension. Sweden is one of the best places that you can move to - it's time to start applying!