Last Updated: February 02, 2021
Working In Canada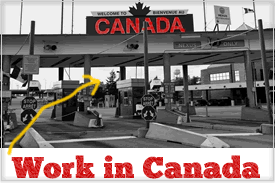 Canada is a very popular country regarding opportunities, making it a most sought after destination for immigrants. The application process for the work visa is relatively stress-free if you have all of the necessary documents and go prepared. Around 300,000 workers come to Canada each year.
High Quality Of Living: Canada is a highly sought after destination because it offers people a high quality of life and an excellent standard of living. The necessities are provided to all the people living in the country regardless of amount earned.
High Safety: Canada is one of the safest cities in the world. The people are friendly and go out of their way to welcome foreigners.
Easy Visa's: The Canadian government is very encouraging in providing work visas, so applying and getting approved for one is very easy (when compared to the US and UK).
High Number Of Jobs: Since Canada by itself does not produce enough skilled workers to fill its jobs, there is always room for qualified and skilled applicants.
"'cumulative duration' rule - You can work for a maximum of 4 years, after completing four years you cannot work again/reapply unless a) you go out of country for four years or b) stay in Canada legally (non-working, like as a student or visitor) for four years."
ALL ABOUT CANADIAN WORK PERMITS:
Under IEC (International Experience Canada) scheme (Citizens of most European countries, Australia, New Zealand, S. Korea are eligible) professionals can get permit (without sponsorship from eligible Employers)
Before starting to work in Canada, a temporary work permit is mandatory. This allows the individual to work for a specific employer or any employer as per the type of the permit.
Open work permits are made available only for the spouses of foreign students or employees and post-graduate students.
Visa can be applied for only if there is a temporary job offer. After the initial step, the employer must be willing to extend the job offer and sponsor the employee.
Employer based work permit: The first step in obtaining this permit involves the employer to apply to the Human Resources and Skills Development Canada (HRSDC) for a LMIA (Labour Market Impact Assessment. HRSDC's job is to analyze whether the prospective employee has a positive or a negative impact on Canada's labor market. This application takes anywhere around 3-11 weeks to be processed. A LMIA is not required only in special cases such as the North American Free Trade Agreement, beneficial output to the Canadian government, reciprocal agreements with other countries, open work permits and charitable work.
After obtaining a positive LMIA and approval the second step involves the employer extending the temporary offer.
Once the offer letter is obtained by the candidate, the final step involves applying to the Citizenship and Immigration Canada (CIC) for the actual work permit.
Once the employment period comes to an end the work visa will cease to be valid, and the candidate will be asked to depart from Canada. However, this situation can be prevented by changing one's immigration status through the Canadian immigration department as soon as one's arrival in Canada.
There are some professions that do not require a work permit to become a Canadian immigrant. Such areas of work include Business invitees, foreign agents and government workers, military troops, artists, athletes, healthcare professionals, etc.
Biometric screening has become a mandatory pre requisite of obtaining a Canadian visa from the year 2013 to ensure the safety of the country.
DOCUMENTS REQUIRED FOR APPLYING FOR THE WORK PERMIT:
Register online.
The application processing fee.
Passport with a minimum of 6-7 months of the validity period.
LMIA approved document.
Job offer issued by the employer.
Education and work experience documents.
Financial statements, Bank, and personal funds documents.
Required proof for accompanying dependents, if applicable.
Proof of English Language Proficiency.
Photocopies of all the documents must be submitted along with translations wherever necessary.
Medical Clearance might be required depending on your occupation and places you have lived.
Canadian work permits take anywhere around 4-6 weeks to be processed (sometimes even longer), so, early applications are encouraged to ensure a smooth visa process.