Last Updated: February 22, 2021
How to apply for Russian Student Visa
From Saint Petersburg to Moscow, the mighty nation called Russia guarantees a vast scope of education to overseas students. The country is studded with some top-notch universities which offer a variety of courses in various different disciplines. Since Russia is one of the most beautiful and important countries in the world, the focus of these universities remains on imparting education that makes students understand the world in a better way. This helps them get a job that can crack even the toughest of student's dreams.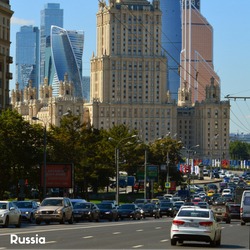 Stages of Russian Student Visa application process
Russia is a powerhouse of world-class education where prospective and career-oriented students have a vast range of options to choose from. 85 regions with more than 890 universities in the country are always looking to cater to the needs of international students. To get through one of these, you have to undergo the following stages â€"
Choose university and the program/course.
Go through the program or course you want to opt for.
Once you finalize it, select the university, you would like to get admission to.
Make sure the course you choose, has the global demand so that it'll help you get the best of the jobs after completing the course.
Eligibility for Russian student Visa
Apart from all the visa processes and compliances, it is important to check whether one is eligible for the Russian student visa or not. To be eligible for the Russian Student Visa, one must:
Have their invitation letter issued by the Ministry of Foreign Affairs of Russia and the Federal Migration Service of Russia or by the University one applies at for further studies.
Have a valid passport with a minimum of two blank pages in it.
Have their duly signed and completed Russian student visa application form.
Have the original diploma or degree certificate or any other educational qualification proof with them.
Have proof of receipt of the tuition fee.
Undergo HIV test, and the result must be negative. The test must not be older than three months.
Show their intention of not staying in Russia at the end of their authorized visa duration.
Have a colored passport photograph of 3.5 x 4.5 cm (1.18 x1.57 inches).
Get the knowledge of financials and funding/scholarships
One of the most important aspects to take into consideration while deciding to study overseas is, of course, the funds. In Russia, you have three ways to secure your financial needs. You can be self-funded, external funds sources such as sponsors; organizations, or grantors can be arranged, or you can get the funds from the Russian Government as well.
Get ready with all the valid and required documents
The applicant has to submit an 'Initial application' consisting of the desired course detail and duration of the course. This application includes your education details translated in the Russian language, your identification copy, a filled form issued by the university along your photographs. Once you clear this documentation process, you would need to check the documents required for the submission to the university at the time of admission.
Undergo academic competition examinations
Entrance exams, Academic competitions, and Tests are the competitive exams the applicants must attend to proceed further. In general, the Introductory Unified State Examination (EGE) is the exam that is taken by high school graduates to study further in Russia. If you pass the exam, you can be enrolled at the chosen Russian University.
What is the Russian Student Visa Invitation Letter and how to get it?
Russian student visa invitation letter is basically an official invitation document, it explains your purpose of visit to Russia as a foreign student. The student visa invitation letter has your personal details, the purpose of your visit, and your duration to stay in Russia (which is issued initially for 3 months). It is important to have this letter as it confirms the embassy, that you are invited by a Russian university to study in Russia. Upon verification of the Russian student visa invitation letter by the embassy, the visa proceeding begins. The Russian University you applied at processes and sends all your detailed documents to the office of the Ministry of Foreign Affairs of Russia. It usually takes 30 to 40 days to prepare the Russian Student Visa Invitation Letter.
Procedures to complete after arriving in Russia
If your application is successful, you will get a visa to Russia and travel there. Yet, upon arrival in Russia, you need to complete two more procedures.
Get the immigration card: At the Russian port of entry, you will receive an immigration card. The card consists of two identical parts that contain questions about you and your trip. Answer the questions with accuracy. One part of the immigration card will remain at the border police, and the other part must be carried by you at all times.
Register your Russia student visa: This is the responsibility of the hotel or the owner of the private home where you will be staying in Russia. Provide them with a copy of your passport data pages, Russia visa, and immigration card. They will need these documents to complete the process.
Apply for student visa
If you want to study in Russia, you will have to follow certain visa procedures. Applicants from some specific countries can enter with just a valid passport as they can access the visa-free system in Russia. In all other cases, the applicant must be enrolled with any of the Russian educational institutes after qualifying all aforementioned stages and steps and then apply for the visa. Though, as per the visa-free system, the applicants can only have access for a maximum of 3 months, and once the stay duration is over, they have to leave the country and re-apply for a long-term visa. So, it's always better to apply for a long-term Russian student visa in the first place.
Fees for Russian Student Visa
It's worth mentioning here that the fees for a Russian student visa vary from country to country. It is strongly recommended that the applicant should apply for the Russian visa at least three months before the planned date of travel. Information on visa costs can be obtained from the Russian Consulate in your country of origin. However, make a strong note here that even if your visa application gets rejected, the fee will not be refunded in any case. Hence do not mention any false details in your visa application form.
Work while studying in Russia
International students can work at the university (or at its organizations) in their free time. Sometimes universities' International Offices help students find employment such as contract work. In such cases, you don't need to take the relevant permit from the General Administration for Migration Issues of the Interior Ministry of Russia. In other cases, a permit is required. Permits are issued only to students on full-time courses at state-accredited universities. Students can work only according to the profession specified in the permit, and in the region where their university is located. However, due to intensive study programs at Russian universities and homework students do not get much free time, hence, international students do not have too many employment options while working in Russia.
Benefits of studying in Russia
Internationally acclaimed courses: Russia's diverse and acclaimed educational courses are recognized all over the world for their excellence. An international student willing to study in Russia can choose his/her study program from a wide array of courses offered by various renowned Russian Universities.
Affordable tuition fee: As an international student willing to study in Russia, the tuition fee is much cheaper in comparison to other countries. Government-owned prestigious Universities in Russia offer affordable courses in a wide number of disciplines which attract students from all over the world. If one chooses to study in a university outside Moscow, the tuition fee gets cheaper. The Russian Universities also provide a wide number of scholarship programs which makes the tuition charges free of cost. Apart from scholarship programs, Russia also provides international students with exchange programs which benefit students immensely.
Nurturing educational environment: The Government of Russia has set up dedicated international offices that work closely with international students for any kind of administrative or academic work. With the help of these supportive offices, international students get direct access to facilities, information, services, etc.
Integrated and developed education system: Russia's developed and innovative education infrastructure promotes interactive and technology-driven study programs. All Russian Universities operate under the Bologna reform, ensuring all students get a unified and internationally recognized degree.
Ref:
https://study.ribttes.com/russian-student-visa-invitation-letter
https://visaguide.world/europe/russia-visa/student-visa/
https://www.study-domain.com/a-study-guild-to-russia/