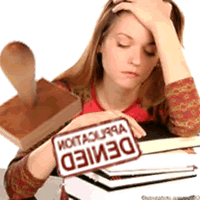 The F-1 Visa is the common type of student visa issued to International students who wish to pursue their higher studies in America. Without the visa, you will not be allowed to enter the country. Even if you have another type of visa, have entered the country, you will not be allowed to enroll in the university of your choice if you do not have the F-1 visa. Obtaining this visa requires proper preparation and adequate interview skills as many reasons can cause its rejection. If for some reason, your visa application has been rejected, other options are available, so do not worry.
REAPPLYING FOR F-1 VISA: If your first application was rejected, you do have the option of reapplying. Many students whose visa applications are denied the first time are accepted the second time around. But, it is important that you obviate any possible negatives which might have caused the rejection the first time around.
COMMON REASONS FOR F-1 VISA REJECTION:
Lack of sufficient financial proof to support the student's education.
Lack of document proof that confirms a necessary return to the home country after completion of education.
Falsified documents.
Inadequate English language skills.
Missing or incorrect documents.
Behavior during the interview.
Failure to explain the choice of a particular course and University.
Lack of preparation to provide satisfactory answers during the interview.
Background check failed (due to history, conflicting names, etc.)
And sometimes there is no obvious reason: Not everyone gets student visa there is probably a rough limit (unknown to us) and if demand is high people will receive rejections. We have seen a lot of cases where students receive a rejection for top 50 Universities (prepare your documents, present yourself properly: - don't assume getting into a top 20 University will guarantee visa!).

If you find that any of the above reasons is the reason behind the reject, work to remove them, and try again. You can apply as many times as you want (it's not recommended to apply too many times unless you have a valid reason to reapply), many students who receive rejects in the first and second tries, do get admits in their third try. So do not lose hope and keep on trying.

However, if you are rejected multiple times and you decide to give up then you have available the following options:
1. EDUCATION IN OTHER COUNTRIES:
If studying abroad is the final decision, there are plenty of world-class universities in other countries which offer the same quality of education (at times, the same quality at a cheaper cost).
Australia, Canada, and Europe offer high-quality teaching and have many high ranked Universities along with U.S Universities in the World Rankings.
Visa process is less strenuous in these countries, and along with the facilities and the opportunities available, it serves as an ideal choice.
2. STUDYING IN HOME COUNTRY:
Many good colleges offer quality education and ample job opportunities in each student's homeland itself.
The necessary tests can be prepared for and attempted to secure admissions in these colleges.
It is always beneficial to study in one's country as the education can always be used to better the situations in the country.
3. APPLYING FOR A JOB:
The final aim of any student is to secure a good job so why not apply now?
Ample employment opportunities are available according to a student's qualification, and all it requires is a good resume.
Education can still be an option, and work experience will only add more points to the profile.
Work experience also provides exposure to real world training.
4. PURSUING MSc COURSES WHILE APPLYING AGAIN NEXT YEAR:
In case if you find that you have to wait another year to reapply, use the time to undertake some course of your interest. These courses will improve your knowledge, may help you obtain a good job after graduation.

So even if your visa was rejected do not lose hope, just keep trying until you succeed. You may be able to transfer some of your credits.