F-1 Student Visa - USA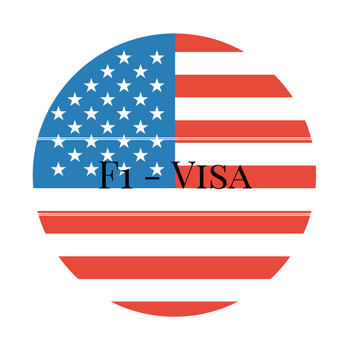 F-1 visa or US student visa or study visa is granted to students (for a full-time course) and is valid generally for the period of study and permission of work outside the university is not allowed. The F visa is for academic studies (like BS, MS, MBA, Ph.D., High School, Private Elementary school, Seminary).
A person can enter US (on an F-1 visa) only if he has a valid F-1 visa stamped on the passport.
A student with an F-1 visa cannot work off-campus at any time during the first year of study; however, the U.S. Immigration and Naturalization Service (INS) may grant permission to accept off-campus employment after one year (or 2 semesters during Internship).
No permission is required for on-campus employment (which can be maximum 20 hrs/week and 40 hrs/week in the summer semester (if not enrolled)).
Apply to a SEVP-approved school in the United States. Not every school can issue I-20 (accept international students). Make sure you apply to approved school only. To get a student visa you need an admission letter from University (a form called SEVIS I-20). You will then take an appointment with US consulate in your country. Visa officer might check your documents/your ties with the home country and if you have enough funds to live and support your education.
Student visa (F) numbers for last few years
2015 - 677,928
2016 - 502,214
2017 - 421,608
2018 - 389,579
2019 - 388,839
If you are not sure about your School/College make sure to check if your school is approved, This is very important.
List of SEVIS (SEVIS stands for : Student and Exchange Visitor Information System.) approved schools
How can I get a US student visa?
For F-1 visa, applicants must be sufficiently proficient in English. English proficiency can be proved by tests like TOEFL/IELTS/GRE/GMAT. These tests are only required for non-native English speakers to pursue the course of study.
You should have admission letter (form SEVIS I-20) for a full-time course of study at an approved educational institution (as listed in above URL). You should be able to prove that sufficient funds are available (like loans/cash) to support living (for yourself and family (if anyone is coming with you)) and school expenses during the entire period of study in the United States (
How to create funding documentation
).
The visa officer also check if you have a strong reason to return to your home country (after completing your education).
Documents required for US F-1 (Student) visa
SEVIS I-20, which is provided by your University/school. I-20 form must be signed by you and school official (Graduate school/International students office).
Online Nonimmigrant Visa Electronic Application, Form DS-160.
Passport valid for travel to the United States and with a validity date of at least six months beyond the applicant's intended period of stay in the United States.
One colored photograph (if online upload fails) 2 X 2 inches square for each candidate, showing a full face, without covering head, against a light background.
Original TOEFL scores and SAT, GRE, GMAT scores (as applicable). Students going to the United States to earn a Bachelor's degree should bring their most recent mark sheets or graduation certificates.
Students going the United States to earn a Ph.D./MS degree should bring their original undergraduate degree and mark sheets/Transcripts.
Spouses and minor children accompanying the student to the United States should bring marriage certificates, wedding photos, and birth certificates with them to the interview, to prove the relationship between themselves and the principal applicant.
An MRV fee receipt to show payment of the visa application fee.
The SEVIS I-901 fee receipt.
FAQs
US Embassy and Consulate (in your home country) can issue a visa (stamped on passport) 120 days or less, in advance of the course of study registration date. So if your registration date is Aug 23rd (for Fall session), then you can get visa after ~April 23rd. If you apply for your visa more than 120 days before your start date or registration date as provided on the Form I-20, the Embassy or Consulate will hold your application until it can issue the visa. TIP: we strongly recommend to apply in beginning depending on economic & political conditions (also try to reach your school as early as possible because on-campus jobs are first come first..
You can enter the US only if 30 days or less are remaining before your school's start date.
Students in or outside the U.S., who have been away from classes for more than five months, will likely need a new visa to enter the US. TIP : be prepared to get new visa (which might require new SEVIS from your school..) especially if you are planning to do Internship outside USA.
Always keep SEVIS documents with you.. (even if you start working for a company)
Don't panic if you get F-1 visa for 2 years and you are enrolling for a Ph.D. (which is 3+ years)
Remember student visa is only valid as long as you are a full-time student..for example if you get an F-1 visa for 5 years that doesn't mean you can stay in the USA after completing studies. After completing MS (1.5 -3 years), you might have to get a OPT or other US visa (to be in legal status)
F-1 student visa Interview Questions
F-1 visa success rate
It really depends from which country you are applying. Success rate is 80%+ for some countries in Europe, Australia, while it's low < 50% for countries like India, China.
Student visa
---
Student visa Experience
Hello guys finally a big relief. I got my. I was interviewed at US Consulate in New Delhi. I will be doing my MS in EE from Rutgers University.. here is my conversation with visa officer.. I saw a many rejects today.. looks like some visa officer have high acceptance rate and some officer reject more frequently. I was dressed in formal clothes (no suit though).. Here is what I think is really important : Don't be too quiet, be confident.
Here is my visa interview..
ME:
Hello Sir
Visa officer :
Hello, How are you doing today?
ME :
I am fine thanks, How about yourself..
Visa officer :
Can i see your Bachelor's degree?
ME :
Sure sir, blah blah
Visa officer :
What was your GRE score and how many Universities did you apply?
ME :
My score was --- and I applied for 6 Universities..I got admit from 3
Note: I have seen some people applying for 15 Universities .. I think you should tell a decent number to V.O. If you tell that you applied to 20 universities it looks like a desperate potential migrant.
Visa officer :
Rutgers is a good university my father graduated from there.
ME :
Yes sir I am really excited about my admission and if I get a chance i will go for my PhD also.
Visa officer :
You are approved.
I think it depends a lot on luck too looks like Visa officer was excited about Rutgers university and it's a human tendency. Prepare well for your visa questions (in short you should be aware of all possible
by Rajiv Mahajan
---